Latest posts by Tech.id Media ( Aldy )
(see all)
What is KL Kiosk?
Kawan Lama Retail, a well-known retail network for household goods, furniture and lifestyle products in Indonesia which houses ACE and INFORMA, in collaboration with PT M Cash Integrasi Tbk (MCAS), a subsidiary of PT Kresna Graha Investama Tbk (KREN), officially launched KL KIOSK, a revolutionary digital kiosk that provides various services for paying routine bills and purchasing digital products in one machine, bringing ease of access and efficiency to its customers. Nana Puspa Dewi, Marketing Director of Kawan Lama Group said, "Digital technology is currently increasingly competitive in various industrial sectors.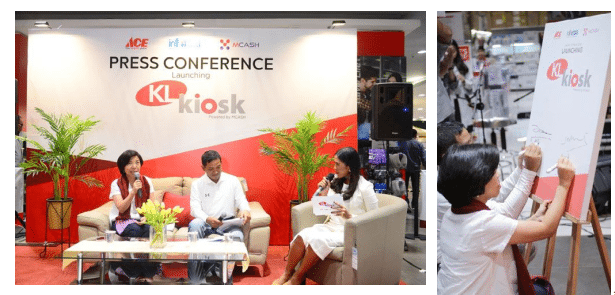 As one of the growing businesses, Kawan Lama Retail certainly follows the positive trends that are happening, one of which is through digital-based service products." Previously, they had launched www.ruparupa.com as the Kawan Lama Group's authorized online retailer as well as a mobile application. And this time, in collaboration with MCAS, we present KL Kiosk at ACE and INFORMA stores to continue our commitment to developing services for customer satisfaction and presenting a digital retail experience. KL Kiosk allows customers to make routine bill payments, including electricity, water, telephone to insurance and health insurance contributions. Meanwhile, digital products that can be purchased include electricity and telephone credit, internet data packages, tours and travel, concert and show tickets, e-commerce transactions, game vouchers, restaurant vouchers, and e-money top-ups. In addition, customers can also purchase SIM cards and e-money cards with automatic registration. "We hope that the presence of KL Kiosk can provide extra services for our customers. Not only shopping, we also provide customers with convenience for routine bill payment transactions and purchasing digital products at the same time in one place," added Nana.
Responding to the collaboration with Kawan Lama Retail, Mohammad Anis Yunianto as the Director of MCAS said, "Through this collaboration, MCAS as a provider of KL Kiosk technology and digital contents aggregator will exclusively provide access to services in KL Kiosk and make customizations according to with the needs of Kawan Lama Retail's customers so that it can provide added value for Kawan Lama Retail's customers." Anis also added, "An integrated business model and broad reach are two key things in our business strategy. In accordance with our vision, we want to reach more people and make their daily life easier. The Kawan Lama Retail network spread throughout Indonesia with large customer traffic coming every day to stores and outlets answers all of these things.