Latest posts by Tech.id Media ( Aldy )
(see all)
Tips for Leaving the Car at Home During Vacation or Homecoming – Planning to go home to your hometown using other or public transportation, while leaving your favorite car at home? So, to keep your heart at ease and comfortable, there are a number of tricks you can apply to keep your favorite car safe until you return home.
First, it is highly recommended to wash the car first, so as not to store dirt for a long time. "After drying, open or slightly lower the window glass about 0.5 to 1 cm, so that the inside of the cabin is not damp. At least only the front row seat windows," suggested Sartono, Technical Leader of Auto2000 Bintaro, Tangsel.
Oh yes, if you have a car cover, aka car cover, your car should be covered properly. But first make sure the car cover is made of good material, so it doesn't damage the paint if it sticks. Next, try to park the car under a roof or canopy for an open car port.
It would be even better in the garage. This is to keep the paint on the car body from getting dull quickly. Oh yes, don't forget to use additional security, such as a key to open a little glass so that the cabin is not damp or wheel locks and so on, to anticipate the actions of ignorant hands.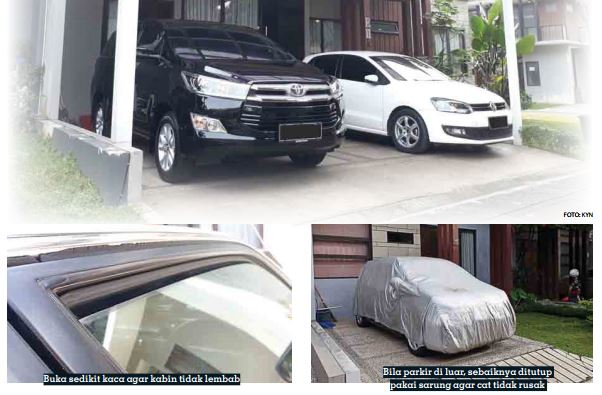 DISCONNECT THE BATTERY CABLE
If the car is relatively new, actually if you're only going for 1-2 weeks, you don't need to unplug the battery to avoid electrocution. On the other hand, for cars that are more than 10 years old, it is highly recommended to remove the battery cable. But, it's fine if you want to unplug one of the battery cables in your new car, so that your heart is calmer. Because, maybe it's not the overdrawn battery that we're worried about, but the attack of rat pests that sometimes like to bite the wires. I'm afraid there is a stun cable that will be bitten and exposed, then hit the body or chassis. A car can catch fire, right? So, try to remove the battery positive cable.
Then what must be considered too, is the matter of using the hand brake or foot brake. "For cars with automatic transmission, just position the gear lever at P, no need to pull the handbrake. For those with manual transmission, the car can be blocked by rocks first, or enter 1st gear without pulling the handbrake," Sartono advised. This, said Sartono, aims to prevent the brakes from sticking when the car is used again. "Usually marked with a 'judug' sound when the car is about to run," he added. Also, pay attention to the condition of the tires and their pressure before you leave. Don't let any punctured tires get hit by nails or anything else. Because if you come back home again and the condition of the tire is totally flat, it's more troublesome to handle it.
Lastly, if you leave it in a carport with a roof, don't forget to turn on the lights so it stays bright at night, so that it can be monitored by security officers. Oh yes, it's also a good idea to entrust your house to neighbors who don't travel or the local security guard. Now you can calm down, right?