Latest posts by Tech.id Media ( Aldy )
(see all)
This is the Laptop with the Best Fingerprint at a Low Price
Lenovo V310 With Additional Battery Lenovo V310 is a business notebook with additional battery to achieve longer operating time
Fingerprint Sensor Fingerprint sensor helps users to keep data secure from access by unauthorized persons
The Lenovo V310 offers something unique for a business notebook. Business people usually use notebooks anywhere and anytime, depending on their busy life. Here, battery life is important. The reason is, this will really help support computing activities when they are away from power outlets. For that, the V310 provides a solution with a backup battery that is included in the package. This battery can be installed easily through the slot located on the right side. By default, on the right side there is an optical drive device in the form of a DVD-writer. You can replace it with the spare battery when needed.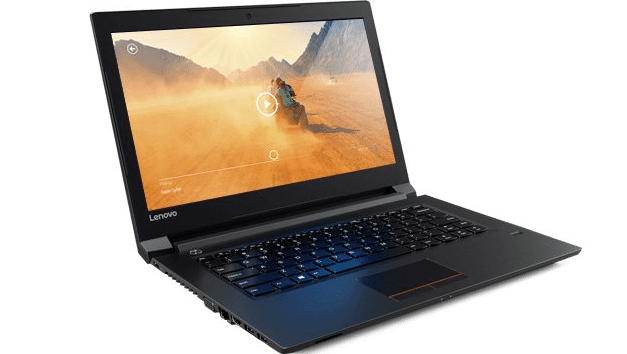 The method is also easy, just press the knob at the bottom of the notebook and the device can be directly installed. Once installed, the operating system will automatically double the battery capacity without requiring any settings. As a notebook for business people, the V310 is equipped with a fingerprint sensor located on the right side. Activation can be done directly from Windows 10. This fingerprint sensor functions as a substitute for a password (which is more vulnerable to cracking than fingerprints). In terms of design, it looks minimalist and attractive. Unfortunately, the coating of this notebook made from do is easily soiled due to fingerprints. The V310 uses a special hinge so that the screen can be bent up to 180 degrees to make it more flexible for all needs. The V310 provides a unique feature that also exists in the other newest line of Lenovo notebooks, the Novo Button. The button in the form of a small hole located next to the audio port functions to display interesting menu options. All you have to do is poke or punch the hole in the dead notebook state. Later a menu will appear that makes it easier for you to enter boot options, the BIOS menu, and system recovery. Price List for the Cheapest iPhone 2018 Official iBox Distributor Indonesia
Seeing its performance, the V310 can be relied upon to carry out computing activities for business people. In fact, an additional graphics chip is also included, namely the AMD Radeon R5M430 with two gigabytes of video RAM. This is indeed an entry-level chip which actually has a performance not much different from the integrated graphics chip, namely Intel HD Graphics 620. However, the use of the second graphics will further "lighten" the load on the processor and main memory, although not too drastically. The addition of a second battery can increase battery life up to two times. In testing using PCMark – Work accelerated battery life, when using one battery, this notebook can last up to more than four hours. With the addition of the second battery the time is more than six hours. Pretty interesting right?
SPECIFICATION
Processor: Intel Core i5-7200U (dual core
HT 2.5 GHz, turbo 3.1 GHz)
RAM: 4GB DDR4-2133
Chipsets: Integrated on the processor
graphics card s: Intel HD Graphics 620 + AMD Radeon R5 M430 2 GB
sound card:Realtek ALC236
Save media: HDD 1TB 5400RPM SATA 6Gbps
Facility: Bluetooth 4.0, Wi-Fi 802.11b/g/n, 2x USB 3.0, USB 2.0, 4 in 1 card reader, D-Sub 15 pin, ethernet, Headphone Out, Mic In, HDMI, webcam, DVD-writer
Screen: 14" 1366 x 768 pixels
Operating system:DOS
Battery: Lithium-ion 4-cell 32 Wh + Lithium-ion 2-cell 35 Wh
Dimensions/weight: 34.18 x 24.99 x 2.26 cm/2.17 kg
Warranty: 2 years
Site: www.lenovo.com
Pros: 7th generation Intel processor and DDR4 main memory, there is an additional graphics chip, accompanied by an additional battery, the screen can be bent up to 180 degrees, there is Dolby Audio technology, the screen is antiglare.
Disadvantages: The notebook layer is easily soiled by fingerprints, not accompanied by Windows, screen resolution is only 1,366 x 768 pixels
Conclusion: Intel seventh generation processor and DDR4 main memory, there is an additional graphics chip, accompanied by an additional battery, the screen can be bent up to 180 degrees, there is Dolby Audio technology, the screen is antiglare. The notebook layer is easily soiled by fingerprints, not accompanied by Windows, the screen resolution is only 1,366 x 768 pixels
Price :