Latest posts by Tech.id Media ( Aldy )
(see all)
Price list for the best used family cars for long trips
The Idul Fitri moment is one of the cycles of increasing sales of new cars and used cars (mobkas). Now, specifically for cars, the market has been a bit sluggish lately due to the crush of new car discounts that are getting crazier. Coupled with the fact that there are still many VIN 2018 car stocks which clearly have bigger discounts and are quite tempting for consumers. Even so, mobkas are able to provide an alternative choice, given that consumers' purchasing power is still holding back from spending. Moreover, there are many needs ahead of Eid, as well as preparing for the new school year. Based on these considerations, the frame of mind is to buy cars at the most rational prices. Of course, by prioritizing functions and needs. Not on the mere desire that sometimes it does not achieve maximum function. If so, it's no wonder that the favorite mobkas ahead of Eid are 'family cars'.
Whether it's the LCGC, LMPV, or LSUV segments, as long as it's still rational and able to accommodate a family of one house, then that's what they choose. The budget must also be rational, namely under Rp. 150 million. "It's true that the most sought after are family cars, people don't see what the segment is anymore. The important thing is rational in terms of function and pocket. If you use it for homecoming, after using it every day, you have to find something that is economical," said Ferry Kurniawan, boss of F Mobil, at the Tems's Car Exchange, ITC Permata Hijau, West Jakarta.
The demand for cars under Rp. 150 million is starting to increase ahead of the fasting month and Eid, although not as much as last year. "Usually ahead of Eid, the demand can be 130%. As of April, we have sold 2,100 units, of that number 1,500 units are a combination of LMPV and LCGC. But compared to last year we were able to sell up to 3,000 units," explained Herjanto Kosasih, Senior Marketing Manager of WTC Mangga Dua, North Jakarta. More about the choice of favorite mobkas for going home for Eid, as well as any considerations when deciding to buy a mobkas. Here is the review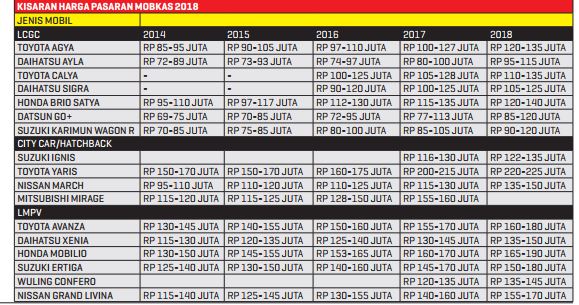 ADVANTAGES OF SELECTING MOBKAS
Choosing a mobkas besides being more affordable, it turns out that there are a number of other advantages. This was revealed by Herjanto Kosasih, who is also known as a car market observer. "First, it is easier for car consumers to choose odd-even number plates. The problem is that if you buy a new car, you have to add Rp. 3 million to be able to choose the license plate," said Herjanto. Still according to him, the second is the ratio of depreciation or depreciation of the price does not fall too much. "Compare it with new cars, let alone European cars whose prices can fall 30-40% in the same year," he added, analyzing. Furthermore, mobkas can be used immediately without the need to wait for the number plate and STNK to come down. "No need to change the name first, but it can still be used immediately. So consumers are more flexible, "he continued again
Also Read: This is the Latest Technology in the Automotive Field
AGE NOT MORE 5 YEARS
So that maintenance is not troublesome, you should buy a car with an age of no more than 5 years. "Yes, because the older the car, the more components that are worn out and need to be replaced. In the end, maintenance costs are also more expensive. The maximum build was 2014, it's still pretty good," said Ferry. In addition, non-fast moving spare parts are also easier to obtain. "When it's past the age of five, it's sometimes difficult for some cars to find non-fast moving components. It will be very disturbing if it turns out to be damaged and it's close to Eid," said Indar Pratama, the owner of the Daya Mobil car showroom in Cibubur, East Jakarta.
IDENTIFICATION OF FAKE LETTERS
The mode of counterfeiting car documents, both STNK and BPKB, has recently begun to be uncovered. How to avoid the risk of counterfeiting? "If the letters are in their own name (seller), you can use the Samsat application. But if it's not his own name, to be safe we'll take him to the Polda to check his physicality and legitimacy," Ferry explained. Can the authenticity of the letters be checked physically? "Yes, I usually pay attention to the outline on the BPKB. If the original has a dotted line, when reversed the line looks connected. The type of paper is even rougher, then there is a Police hologram behind the front and back cover of the BPKB," he pointed out again.
CAR CONDITION IDENTIFICATION
Of course you don't want to buy a car that has been hit by a flood or a crash. So how do you identify it? "Physically it's easy to identify. Flooded used cars can be seen on the cabin floor, which often leaves mud spots. Then on the legs, if the rust has a level or an even line, it means it is suspect," said Ferry. Added by Ardana, the owner of the One Motor workshop in West Bekasi, "Try opening the base carpet a little. If a used car is flooded, usually the carpet is wet or the deck is wet. It's hard to dry and sometimes the owner doesn't pay attention to it." Then what if the former collision? "It's easy, all you have to do is pay close attention to the reinforcement in the hood where there shouldn't be any knock marks or joints. Then on the chassis are there any dent marks, if there is a former collision there are usually repair marks. Likewise, if you hit the back, all you have to do is look at the back of the trunk," he continued, while saying that if the paint was streaked it was a natural thing to use. Other identification, can be seen from the paint or the surrounding body surface. If it turns out that there is a small part that is smooth while the surrounding has an orange peel nuance, it should be suspected that there has been an improvement at that point. It will be worse if there is a bend or connection
RECONDITION COST BUDGET
Just in case, it is necessary to budget for the cost of reconditioning. Because not all of the mobkas conditions can be measured. "If you buy a car with a maximum age of five years, the reconditioning costs are not too high. Around 2-5% of the selling price, or simply around Rp. 2-5 million is enough for the reconditioning budget," said Herjanto, while saying that the cars that have been purchased should immediately change the oil and everything related to the belt.
HIGHER CREDIT INTEREST
It is common understanding that interest on car loans is higher than on new car loans. If a new car loan has an installment interest of 3% per year, then the deposit interest for a used car loan can reach 8% per year. But this also depends on the financing institution. "Each financial institution has different benchmarks. Exactly, I don't remember. Several leasing companies apply low interest rates for car loans, which are sure to be competitive," said Herjanto. In addition, the down payment for cars is also higher than for new cars. As recommended by the Financial Services Authority (OJK) that the minimum down payment for new cars is 25 percent, while cars are set at 30 percent.