Latest posts by Tech.id Media ( Aldy )
(see all)
How it Works and What is ACT Transmission on Wuling – Wuling Motors Indonesia (WMI), finally unveiled its two new variants to the media crew at the Sentul International Circuit, Bogor, West Java, Monday (22/4) yesterday. As is known, these two new Wuling products were widely reported in cyberspace, and even appeared a few appearances. Yes, WMI has officially introduced variants of Wuling Confero and Cortez. If previously the Confero model only had one transmission option, namely manual (M/T), now the automatic transmission option is added. But with a system that is quite unique. Of course, not only the transmission, there are several additional features and changes in appearance. Meanwhile, for the Cortez model, there are now more new engine options, namely 1,500 cc which is filled with a turbocharger, combined with a CVT transmission. That is, also added the choice of automatic transmission models. So, for the full details, read on until the end. The ACT label behind the name Wuling Confero S stands for Automatic Clutch Transmission. WMI itself has dubbed the new transmission system on the Confero S as Active – Driving Excitement. But you shouldn't imagine that the automatic transmission model will be the same as the Wuling variant that already exists in Indonesia.
Because it turns out to be completely different and has never been implemented in Indonesia. The automatic transmission system is somewhat unique. How is it not unique, even though in operation the driver no longer needs to step on the clutch, because only the gas pedal and brake pedal are available, like a car with an automatic transmission in general, but the driver still has to manually shift gears, totaling 6-speed forward. No.. how come? "We call this type of transmission system e-Clutch," said Danang Wiratmoko, Product Planning for Wuling Motors Indonesia.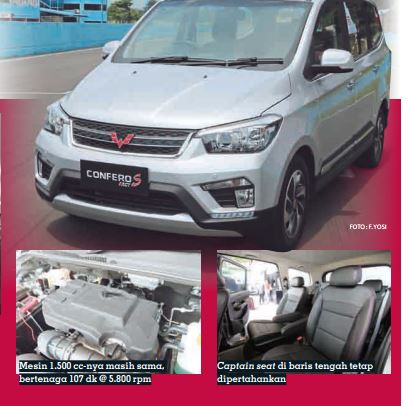 Still said Danang, the construction of the transmission gearbox is the same as that of a manual transmission in general. However, to free clutch friction when changing gears, which is usually done mechanically or hydraulically, it is now being replaced by an actuator. "This actuator will automatically work to free the clutch when the transmission lever is moved to shift gears. So that the gearshift still feels smooth like a conventional automatic transmission, "explained Danang. However, when the car stops and the engine speed is idle and enters gear, the actuator continues to work to free clutch friction, but it's like pressing 2/3 of the clutch. So the engine won't turn off, and the car still feels like it's moving like any other automatic transmission car. Still, said Danang, the e-Clucth system on the ACT Confero S besides providing convenience in operation, is also guaranteed to be more efficient in terms of maintenance.
"Because the construction of the transmission is not complicated," he added while explaining that the e-Clucth transmission system was developed by Schaef?er from Germany. Oh yes, for the feeling of driving the Wuling Confers S ACT, we will thoroughly review it in the next issue. But what is clear, besides the addition of new transmission options, it seems that WMI has also added several new features and made a few changes to the ACT Confero S. "The interior color is now black. Then the electric mirror is now foldable, aka it can be folded electrically, then the driver's seat settings can now go up and down (besides going back and forth, red), there is an Emergency Stop Signal (ESS) feature and finally one more color choice, namely Aurora Silver, said Danang. For the price, it will be officially announced on April 25