Latest posts by Tech.id Media ( Aldy )
(see all)
Here's Sophisticated Future Cars
The car can drive by itself, adjust the cabin air temperature on demand, play music automatically, and even turn on the lights in the house before we arrive.
We know what you're thinking right now. A vision of a "connected car" that will soon come true. Which will benefit its users starting today and in the future. All VW Group, Mercedes-Benz and BMW brands have been connected to their user accounts. Which automatically logs in and identifies who is the driver to adjust seat settings, play your favorite songs, and change the ambient light to your taste. It has started with the Porsche Cayenne, and will be followed by a cheaper variant. This then ended the digital trend debate at the Frankfurt International Motor Show (IAA) about analog or digital control. The latest Audi A8 improves the voice command feature, so the driver can speak in a personal style to function the car's features, and the system can execute it or know what it means. And from several research results, it describes changes in the history of the automotive industry in 2020. Not only automakers and the IAA will change, but also automotive component suppliers such as Continental, Magna, ZF and Bosch. While many car manufacturers such as Nissan and Volvo involve Facebook for the first time in their car products. This points to the direction of future cars which will be equipped with high-performance computerized systems that can do everything.
VOLKSWAGEN Future Cars
Until 2025, VW plans to launch 80 models of electric cars that are on average autonomous (self-driving). The SUV-Coupe is the opening model to be introduced in 2020, which can listen to voice commands and read lips to open doors and play music. In addition, there is a user account (VW ID), which can be used to automatically set maps to reach destinations, seat settings, suspensions, including individual music playlists connected to Netflix or Apple. The ID can also carry out "We" services which include "We Park", which allows drivers to pay for parking with their cellphones through an application. Apart from that, there is also "We Deliver", which is a collaboration between VW and DHL for sending packages by placing them in the trunk of their VW cars. To then be picked up by the DHL courier previously ordered through the app, with a random authorization code to open the baggage. In addition, Android phone owners can also control the state of the house, such as turning on the heater. This is possible with the Volkswagen NET apps-connect with MirrorLink and Magenta SmartHome.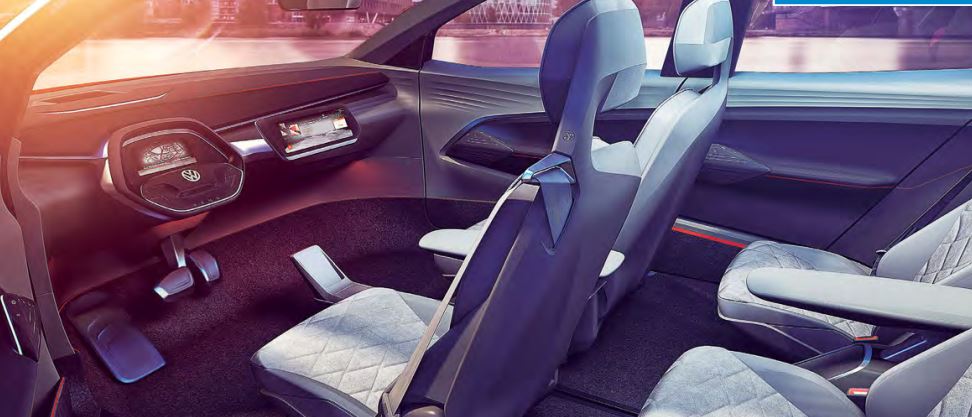 AUDI Future Cars
There are several stages / levels of autonomous or self-driving cars. And level 5 or the highest is one that can actually walk independently without anyone's help from point A to B in 2025. For this reason, Audi has answered this by launching Aicon. This car doesn't need a driver at all, instead in the interior the passengers can sleep with a kind of lounge provided. Passengers can very freely control the radio via voice commands, or touch the back of the seat. There are wide mirrors, and no steering wheel, pedals, or gear stick. Meanwhile, today, Audi introduces the A8 which sets a new digital standard in the automotive industry. This car is a level 3 autonomous car that still needs driver assistance. Launched in fall 2017, with Nuance's most innovative voice control yet. With this voice control, conversations with the Audi A8 can be as good as Siri, Google or Amazon Alexa. In addition, the A8 utilizes advanced software that makes its navigation map display look even more realistic. This map then reads the road conditions, and the car automatically adjusts the suspension to deal with the path it will encounter. What's interesting is that all of these functions can be managed through the myAudi application, including connecting music to Sportify as a favorite playlist.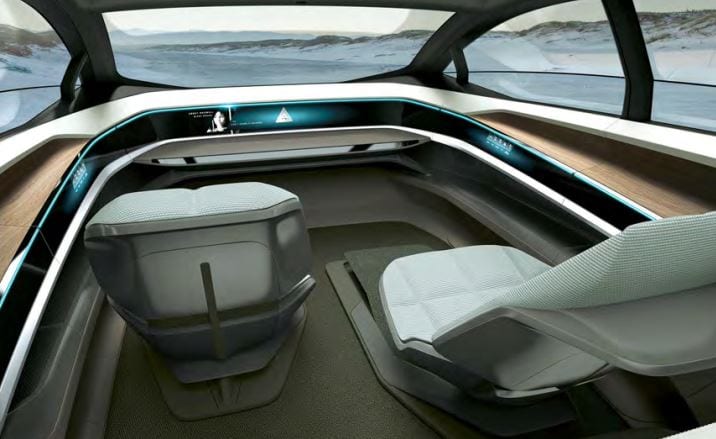 MERCEDES-BENZ Future Cars
Mercedes-Benz has navigation startup what3words, which could revolutionize the traditional address system. The software has at least 57 trillion contacts from around the world whose addresses can be searched by saying just three words. The system will automatically convert them to destinations around the world. Meanwhile there are 14 languages ​​to choose from. Mercedes-Benz also agreed on voice services for Amazon Alexa services. Starting from the mention of the price to mentioning the delivery address with precision. In addition, the current C-Class and GLC are also equipped with office functions, including a calendar that can be synchronized with navigation.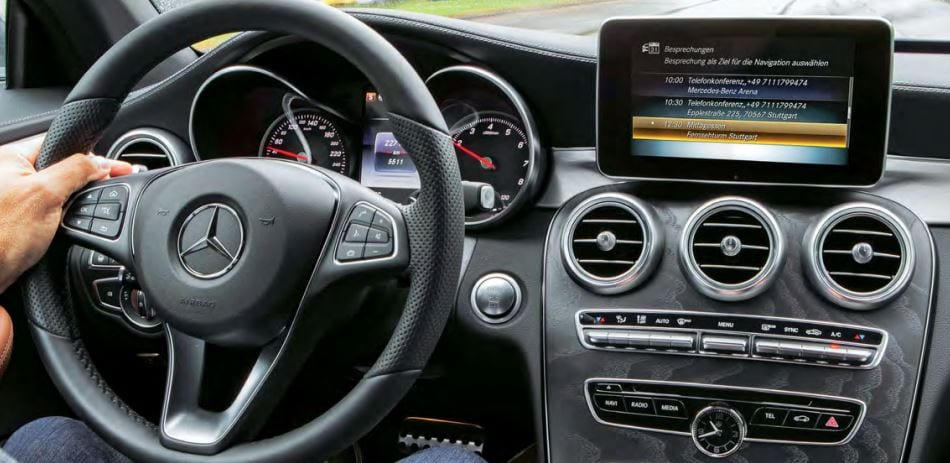 SMART Future Car
The Smart Vision EQ Fortwo is a concept car without a steering wheel and pedals, and helps car2go rental companies get up and running. The 24-inch screen replaces the instrument screen instead of the touch screen. Voice control and receive phone calls. In the future, you can order and operate a car that will have a level 5 autonomous system only through a smartphone. Therefore each passenger taken on a trip will be arranged according to music preferences, Facebook likes and other profiles. There are two seats that can be separated by a barrier for the privacy of each passenger.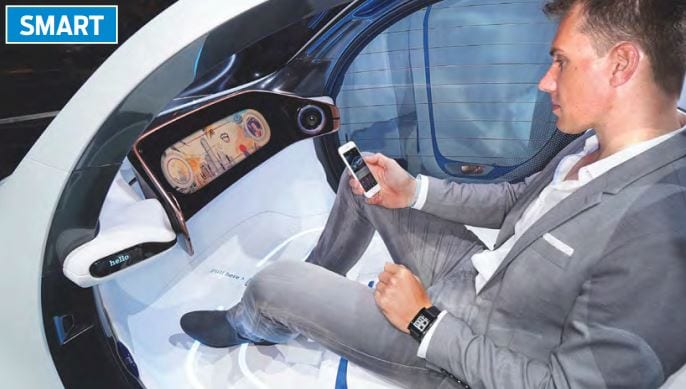 BMW Future Cars
BMW looks to the future with Connected+. This system is an integration of car systems with smart phones, which has been implemented in the BMW 5 Series (G30). Connected+ becomes a kind of your personal driving secretary. Can save travel plans, provide alternative routes, even remember the traffic situation on the route you have passed before. This is done before you get into the car via cell phone. In the latest development, BMW introduced the i3 and i5 features that can be charged without charging expensive fees at home. Meanwhile, the Digital Charging Service also allows cars to get power from sunlight, to reduce home electricity use. In the ConnectedDrive Store, customers will also get traffic information in real time, including an entertainment system according to taste. And the good news for MINI customers, a similar connectivity will be launched soon, with the name MINI Connected.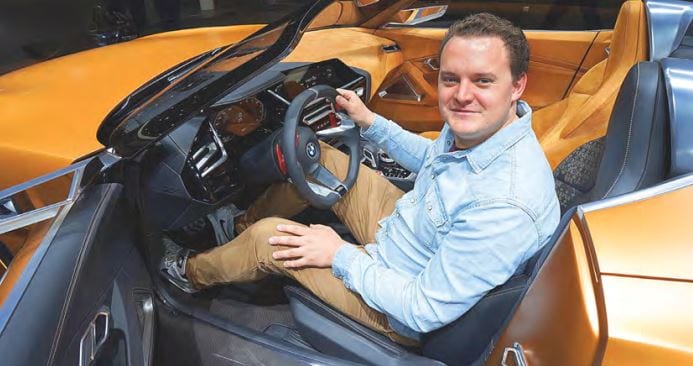 SKODA's Future Car
Skoda provides an update for its app. Within the Skoda App Store has applications such as Skoda OneApp, mySkoda or Skoda Connect, which are aggregated under the Skoda ID. With this update, Skoda users will have more access to their vehicles. This update was created by Skoda's DigiLAb, designed by the best startup IT companies. So do not be surprised if the driver will get a lot of information before they drive. Both routes, real time traffic information, by displaying Skoda user profiles.

SEAT's Future Car
As the first car manufacturer in Spain, Seat includes an application that is placed on Apple CarPlay and Google Android. Previously this application only worked in Spain, but now it can be used in Germany. When it was first launched, this application also added development in the form of more accurate navigation using Apple and Google maps. So far, the Seat system has been running very well, especially since no manufacturer has adopted two maps at once (Apple and Google). This system is applied to the Seat Ibiza, Arona, Ateca and Leon models. And set a new standard in automotive world connectivity.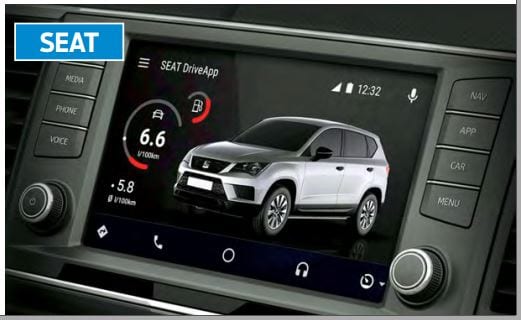 PORSCHE Future Cars
Porsche is the first VW Group company to implement user ID on Cayenne models. This ID will then recognize the driver and adjust the driving situation to his profile. Starting from the cabin temperature, seat settings, to playing songs and the color of the cabin lighting illumination. The new Cayenne also features a sharp and contrasting full HD screen to display Google Earth maps. What's interesting about this ID that can be associated with certain service providers is that it allows you to control functions at home. Opening and closing garage doors, monitoring smoke, or seeing the condition of the house from surveillance cameras.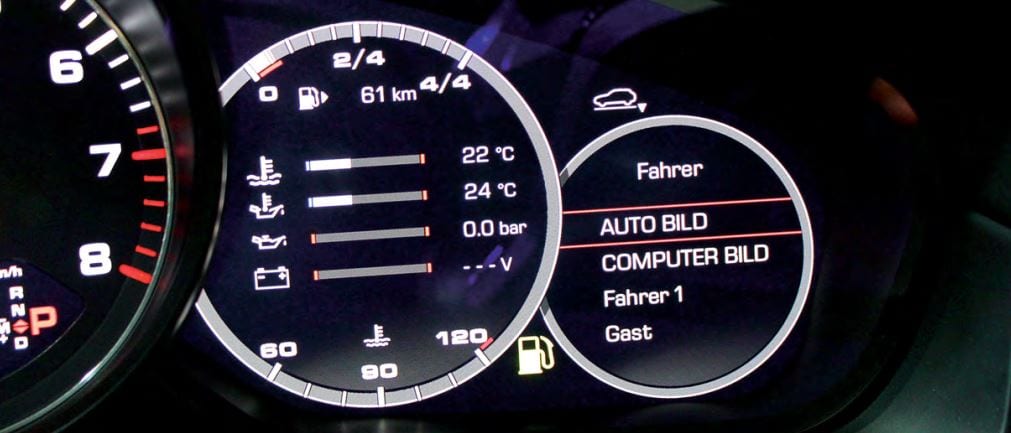 OPEL Future Cars
Opel faithfully develops the OnStar service on its cars. This service, which was introduced in 2015, is a personal secretary in a car. From opening and locking the door through the application, to starting the car, and other functions without the driver being near the car.