Latest posts by Tech.id Media ( Aldy )
(see all)
The long wait is finally over. Even though it was too late, Sony decided to join the Ultrabook party and appear in full force to defeat its competitors. After spending a relatively long 'wait and see' period since the Ultrabook was introduced, it's only natural that they come up with something impressive. But reality says otherwise. The Sony VAIO T isn't the thinnest, lightest, brightest, most durable or even the most powerful Ultrabook.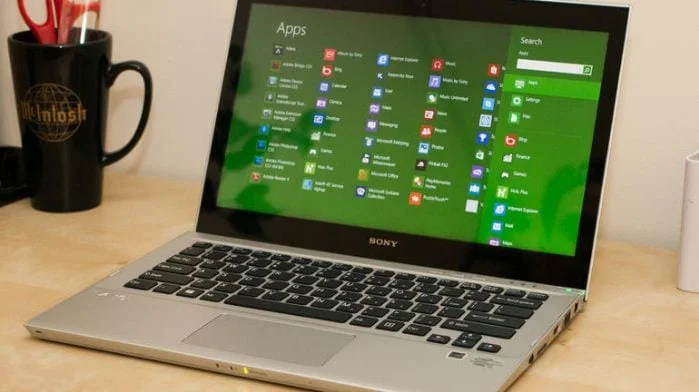 So is it just another standard Ultrabook portrait? We try to prove how the Sony VAIO T is a true Ultrabook down to the smallest detail. Even though it's less attractive than the more premium Z series, the Vaio T has its own charm. Aesthetically, it carries a full-fledged design with a brushed aluminum finish and a solid build. The main design concept really reminds us of the Z series, simple and classy. In fact, the VAIO T adopts the same hexagonal architecture underneath its chassis. On the top right, Sony has returned to presenting the usual trio of VAIO shortcut keys and the power button. Meanwhile, the range of keyboard keys feels soft and comfortable because of their low shape and the space between the keys is relieved. Its large size also makes long typing sessions easier and less tiring. Unfortunately, there is no backlit feature.
To us, the clean layout makes the palm rest feel more spacious and you also get a clickpad with a multi-touch feature which is especially useful when browsing the web and photo collections. As an affordable portable multimedia machine, the VAIO T does its job well. However, the 13.3-inch screen can be a weakness in itself with a resolution of 1366 x 768 pixels which is very standard and is quite common in other Ultrabooks on the market. Currently, the majority of users expect a higher screen resolution for higher productivity and clearer visuals. For example, like the ASUS Zenbook Prime, which has a resolution of up to 1920 x 1080 pixels. Outside the screen aspect, the speakers embedded in the VAIO T perform quite satisfactorily.
In terms of performance, there's nothing spectacular about the VAIO T. As far as we can see, it can match other Ultrabooks in its class and is more than capable of handling what is expected of an Ultrabook. The Sony VAIO T managed to outperform the Acer Aspire S5 on the PCMark Vantage despite having the same 1.9 GHz Intel Core i7-3517U processor. On further analysis, it notably scored higher on a series of Music, Productivity, and HDD tests by up to 20% higher margins. But regarding gaming performance, the VAIO T records gains up to 30% lower than the Aspire S5 which feels a bit odd because both use Intel HD Graphics 4000.
Our temporary guess is that SSD capacity has more or less affected gaming performance and the Aspire S5 is indeed equipped with a 256 GB SSD compared to only 128 GB on the VAIO T. Being Sony's first attempt to dominate the Ultrabook market, the VAIO T may be far from special, especially when compared to the series Awesome Z. But once again it must be admitted that he managed to play his role as an Ultrabook very well. With a price of only 5 million rupiah, it's hard not to recommend the Sony VAIO T. Charming stature, complete connectivity package, and of course reliable performance are some of the reasons