Latest posts by Tech.id Media ( Aldy )
(see all)
The Best Touch Screen Laptops with Fingerprint, ASUS ZenBook Flip UX360UA, Ultrabooks and Tablet Computers
As the name implies, this ultrabook has a hinge that allows it to be folded up to 360 degrees and allows it to change its function to become a tablet computer. As a variant of the ZenBook series that emphasizes elegant design with light weight and thinness, the ASUS ZenBook Flip UX360UA is a 2 in 1 product. This product not only emphasizes appearance, but also superior performance and features. One of the unique features it presents is the use of a hinge called the Jewel Hinge.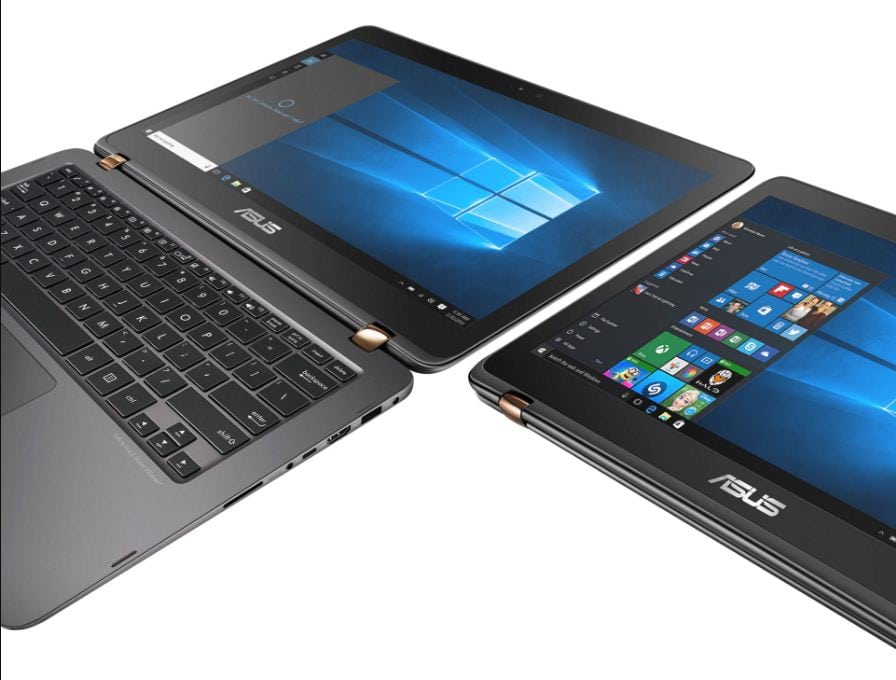 This feature allows the hinge to be folded up to 360 degrees and allows this product to change the function of a tablet computer. In addition to being more flexible, this hinge puts forward a design that is likened to a piece of jewelry because it is gold in color and looks striking. The hinge is also made tougher and is claimed to have been tested by opening and closing up to twenty thousand times. This Ultrabook has been armed with advanced specifications. Supported by an Intel Core i7-6500U processor, 8GB of RAM, an Intel HD Graphics 520 graphics chip, and a 512GB M.2 SSD, the ZenBook Flip UX360UA is fast enough to run all applications that are usually used to complete daily work. This includes graphic design and video editing applications which are quite computationally demanding overall. This capability can also be seen from the tests represented by several test applications (see table).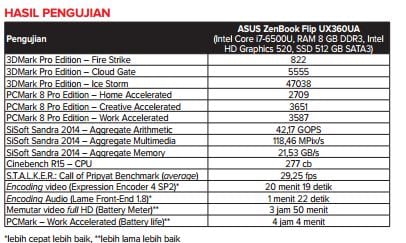 Especially for battery performance, you can use it to play movies in full HD format up to 3 hours 50 minutes. Meanwhile, for everyday applications simulated by PCMark, the time of 4 hours and 4 minutes is not the best, but it is considered good. spreadsheet-based files or high-definition multimedia. Because it can also function as a tablet computer, the screen already supports ten touch points to run touch-screen-based applications comfortably. Complementing the functions of a tablet computer, on the left side included the power and volume buttons. With G-Sensor technology, ASUS FlipLock will detect whether it is being used as a notebook or tablet computer. When used as a tablet computer, the keyboard function will automatically turn off and you can only use this device via the touch screen.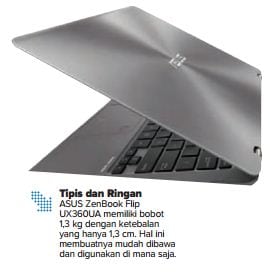 SPECIFICATION
Processor: Intel Core i7-6500U (dual core HT 2.5 GHz, turbo 3.1 GHz)
RAM: 8GB DDR3-1866
Chipsets: Integrated on the processor
graphics card s: Intel HD Graphics 520
sound card:Realtek ALC255
Save media: SSD 512 GB SATA 6 Gbps
Facility: Wi-Fi 802.11 a/b/g/n/ac, Bluetooth 4.1, USB 3.0 (2), audio combo, USB Type-C Gen 1, HDMI, fingerprint reader, SD card reader, volume buttons
Screen: 13.3" LED backlight 3200 x 1800 pixels (QHD+)
Operating system: Windows 10 Home Single Language 64 bit
Battery: Li-poly 57 Wh
Dimensions/weight: 32.1 x 21.9 x 1.39 cm/1.3 kg
Warranty: 2 years (global)
Site: www.asus.com
PRICE (range):
IDR 17,799,000
Excess : Cool design and thin and light, unique hinge with high resistance, touch screen with QHD + resolution, touchpad with gesture function, equipped with a fingerprint scanner, audio from Harman / Kardon, there is the ASUS FlipLock feature.
Lack : Keyboard without backlight.
CONCLUSION If an ultrabook is still considered insufficient for your productivity, the ASUS ZenBook Flip UX360UA offers another function in the form of a tablet computer to meet all your modern computing needs. Supported by a cool design, thin and light shape, and a touch screen with QHD + resolution, this ultrabook can not only be used for work, but also for leisure.