Latest posts by Tech.id Media ( Aldy )
(see all)
Best Android Anti Virus Avast Apk and Avira Apk
Comparison of Anti Virus on Android, Avast Mobile Security & Antivirus VS Avira Antivirus Security
As a smart device, a smartphone is not unlike a laptop or desktop PC that is made into a bonsai. This is quite reasonable, considering that various activities that previously could only be done by laptops, are now slowly being taken over by smart phones. Send and receive electronic mail or create documents, for example! All of that is possible because of its nature which is always connected to the virtual world, be it through a cellular connection or WiFi. However, in the midst of its greatness, it turns out that smartphones are also not free from the dangers that are always lurking, namely virus and malware attacks. One of the preventions that you can do is to install anti-virus which is widely available in application stores and can be obtained free of charge. Most of them are big names who no longer need to doubt their expertise in making anti-virus. Two of them are Avast and Avira. Then, what are the advantages brought by the two anti-virus? Here we describe his prowess head to head.
Avast Mobile Security & Antivirus
Unlike anti-virus in general, this application does not provide a trash cleaning feature. But don't be disappointed just yet, because Avast provides another feature, namely a virus and malware scanner instead. There are two scanning modes that you can choose from, manual or automatic, where you can set the hourly or weekly time yourself. The sophistication of this application is more complete with the presence of an anti-theft feature that can detect, lock, and even delete data on the device, if it happens to be lost due to being left behind or stolen. To be able to use this feature, you have to download it because it is separate from the main application. What's more, Avast also includes the SMS Remote Control feature which is useful for controlling lost devices by simply sending a short message. Not to forget, you will also be made to feel safe and comfortable with the presence of application locking features, data backup and restore, blocking SMS or calls, firewalls, and network meters. If you upgrade to the premium version, there are several additional features that you can enjoy. Among them are blocking ads, backing up additional data such as photos, videos, music, applications and being able to see the face of the thief or smartphone finder and listen to his voice.
Play store link :
https://play.google.com/store/apps/details?id=com.avast.android.mobilesecurity&hl=in
The first time you enter the application, you will be asked to register first by entering a valid email address and password. A little troublesome indeed! However, this is useful for detecting your device if it is lost at any time via the Avira web. After success, the application will immediately scan the device automatically, and the process will take quite some time. To protect the device from prying eyes, Avira has also embedded an anti-theft feature which is effective in detecting the location of the smartphone, erasing data and locking it. To complement its sophistication, Avira also incorporates the Identify Safeguard feature which will detect and inform if a friend's email has been compromised. And to be able to enjoy additional features, you can upgrade to the premium version. In this version, you can surf in cyberspace safely by activating the Secure Browsing feature. In addition, by taking advantage of the Tech Support feature, you can contact a 24-hour technician service and get the Superior Protection feature.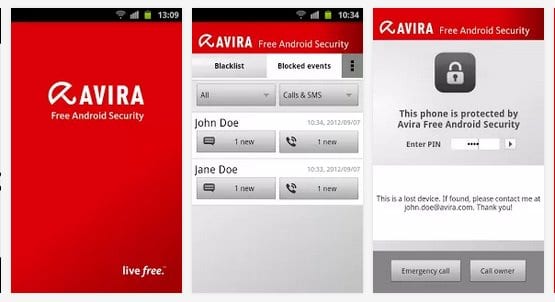 Play store link :
https://play.google.com/store/apps/details?id=com.avira.android&hl=in
Comparison Table of Avast vs Avira Android Anti Virus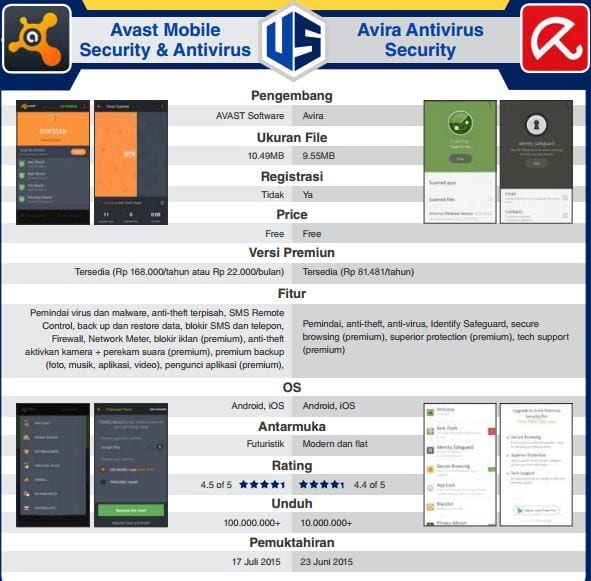 Conclusion

With the various advantages and disadvantages of each anti-virus, it's a little difficult to make a choice as to which one is superior. However, there is one thing that is quite significant, in which Avast does not need to carry out the registration process first. As for Avira itself, before activating this anti-virus you must first register by entering an active email address. This is not only quite inconvenient, but also has the potential to be abused at any time. In addition, Avast also provides monthly subscription options, while Avira does not. Although numerically it is indeed more expensive, the features provided by Avast are more complete. Coupled with the number of downloaders which can be used as an indicator, where Avast broke the 100 million mark, while Avira is only around 10 million. That way, we made our choice, that Avast is the champion.
Source : MagazineMos.com